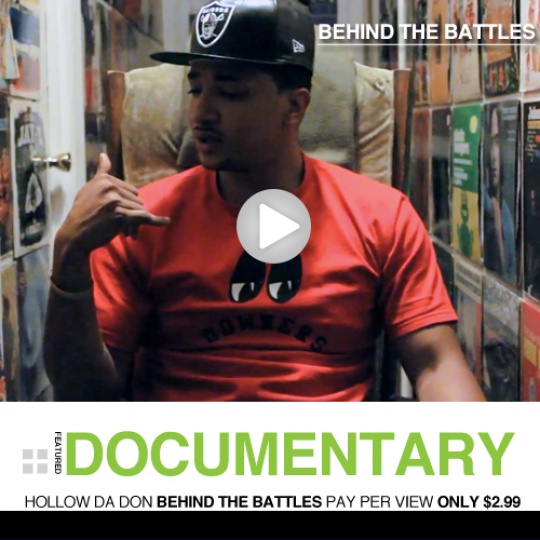 Behind The Battles: Hollow Da Don (Video-On-Demand)
$2.99
Details
ONCE YOU'VE PURCHASED THE PPV, WATCH IT HERE: http://www.rapgrid.com/rap-grid/videos/interview/vod-behind-the-battles-hollow-da-don
FREE VERSION WITH ADS: http://bit.ly/1hJlgp8
Rap Grid Exclusive | Behind The Battles: Hollow Da Don
65 minute documentary on legendary battle rapper Hollow Da Don. Brought to you by Drect & Rap Grid.
This hour-long documentary takes a closer look at the battle career of Queens, New York's legendary Hollow Da Don. Hear him talk about his first battles on BET, the Grind Time Now era, never-before seen battles in jail, & his most recent opponents up until his 2013 battle with Tsu Surf. Featuring Cortez, Young Gattas, Drect, Ms.Fit, Jus One, & Debo. Find out the real stories behind battles with opponents such as Arsonal, Goodz, Hitman Holla, Illmaculate, Passwurdz, Remyd, Amzilla, Big T, & more.
###
If you prefer to watch with advertisements: http://bit.ly/1hJlgp8
Play the video below to ensure the video will play on your device:
###
FAQ for Video-On-Demand:
Q: How do I purchase the video?
A: Go to http://www.rapgrid.com/behind-the-battles-hollow-da-don and click Add To Cart.
Q: How do I watch the video after I've purchased it?
A: Go to http://www.rapgrid.com/rap-grid/videos/interview/vod-behind-the-battles-hollow-da-don.
Q: I don't have a Paypal account. How do I use my credit card?
A: When you're checking out and you see the Paypal page and log-in prompt, look underneath it for an option that says "Don't have a Paypal account?" - click that and you can use any major credit card.
Q: I'm having trouble purchasing from a country outside of the United States.
A: Please enter your address and just choose the closest country you can find from the drop down menu while you're checking out.
Q: Can I share my account information?
A: No. WE TRACK ALL LOG INS – if you share your password, we will suspend your account and reserve the right to pursue legal action. Please support battle rap by not supporting bootlegs.
Q: I'm having issues viewing the battle and none of the above questions explain my problem.
A: Please send a screenshot of what you see to [email protected] and we'll get back to you as soon as possible.